"The interplay between making the familiar strange and the strange familiar is part of the ongoing transformation of knowledge." (Battiste, p. xx)
Legacy of Forced Assimilative Education
"The key in designing meaningful education in Canada must begin with confronting the hidden standards of racism, colonialism, and cultural and linguistic imperialism in the modern curriculum and see the theoretical incoherence with a modern theory of society. No theory of Canadian society exists that reflects its order as an eternal pattern of human nature or social harmony. In this predicament, education theory has to confront the line between truth and propaganda." (Battiste, p. xx)
The site below illustrates how kids across Canada were introduced to the Inuit as recently as 2005.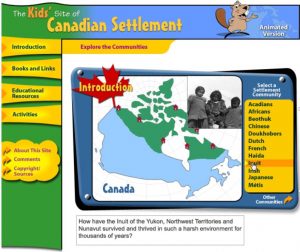 It explains that the Inuit were at "one time they were considered to be among the healthiest people in the world. This is no longer the case; the Inuit lifestyle has changed dramatically over the past decades." It however remains silent as to how and why lifestyles changed.
Further, it does not recognize the diversity among the Inuit groups across the north of Alaska and Canada.
Despite the Inuvialuit Final Agreement signed in 1984 (It was the first comprehensive land claim agreement signed north of the 60th parallel and only the second in (Inuvialuit Regional Corporation)) and the Nunavut Land Claims Agreement that led to the development of a new territory in 1999 (Welcome to Nunavut), this educational resource ends with the statement, "…they are learning to govern themselves in a modern world."
In contrast, the Truth and Reconciliation's national event in Inuvik gathered many of the stories and voices that reflect the truth lacking the above article.
Related resources: Imagine a Canada
"As we begin this journey together we invite you to look at some of the work that is already available to educators as a basis for discussions in classrooms and ideas to inspire learning.
The NCTR is ready to embark upon the journey to reconciliation through education on a pathway, which much like the 2 row wampum, is not a singular trail, but a multilane highway of learning. "
~ Source: National Centre for Truth and Reconciliation, http://nctr.ca/educators.php
Sample resource from NCTR for educators. A song and video created by a grade 4/5 class.